Thorndale Fair Ambassador Leadership Program
Congratulations to the 2022/2023 Thorndale Fair Ambassador, Haylie Graham!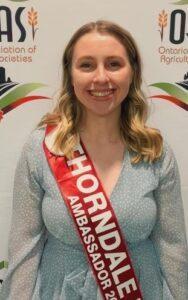 Committee:  Norma Poel, Laura Langford, Bridget Heeman, Jenna Govier – Contact lj.langford@gmail.com
Thorndale Agricultural Society invites all young males and females residing in the Thorndale Fair area to enter the Thorndale Fair Ambassador Competition.  The selected Fair Ambassador will spend 1 year representing the Thorndale Agricultural Society at various events and attend leadership training opportunities including two overnight trips to Toronto. They will receive $1000 presented at the Annual Meeting.  All other participants will receive $100.  Ambassador roses are sponsored by Triple D Farms, The Duffin Family.
If you know of someone you would like to nominate to be the next Thorndale Fair Ambassador please click this link to send us their information!
Guidelines:
Participants must be 17-24 years old of August 1, 2024.
Interested applicants must contact Laura Langford at lj.langford@gmail.com to receive an application to be completed and returned prior to September 15, 2023.
Participants will be judged on their community knowledge and involvement, knowledge of agriculture (or willingness to learn more!), personality and presentation.
There will be a personal interview with a panel of judges.
Judging and interviews will take place on the evening of Friday, September 22, 2023 beginning at 6:30 p.m. and will continue throughout the evening ceremonies.
Participants will complete a prepared 1 minute speech on any topic relating to; fairs, rural youth, community, local agriculture, volunteerism, leadership
Participants will be asked 1 impromptu question during the evening program.
The selected Ambassador is expected to be available to represent the Thorndale Agricultural Society on the three (3) days of the fair, including the Saturday morning parade. Activities will be assigned throughout the weekend to participate in.
The selected Thorndale Fall Fair Ambassador will be expected to represent the Thorndale Agricultural Society throughout the year at various community events, the District Meeting in November, the Ontario Association of Agricultural Societies Convention Ambassador Leadership Program in Toronto in February 2024, and the Canadian National Exhibition Ambassador of the Fairs Leadership Program in August 2024.
Members of the community are encouraged to contact the Ambassador Committee: Norma Poel, Laura Langford, Jenna Govier, or Bridget Heeman to recommend participants for this year's Ambassador Competition.
To nominate someone you know in our community please complete the nomination form here. This does not commit them to the program, but will prompt our committee to reach out to them.
To participate in this year's Thorndale Fair Ambassador competition please complete this application: